HP-PSA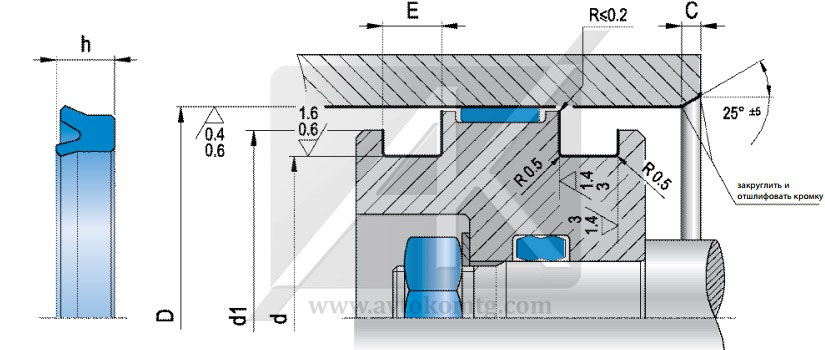 Description:
The PSA cuff is a piston seal and is used for single-acting and double-acting cylinders. This type has asymmetric edges, which guarantees constant contact with the inner surface of the cylinder, even with a large displacement.
The installation is made in a semi-open groove by means of an overlap, since the material has a high modulus of elasticity.
Technical specifications:
Pressure: < 400 bar at +60°C.
Speed: < 0,5 m/s.
Temperature: from -35°C to +100°C with a peak value of +110°C.
Operating environment: mineral oil and fuel (see Table 1 on page 1.2.4).
Material:
Name: polyurethane (PU).
Addition: wear resistant polyurethane, resistant to hydrolysis.
Properties: has a high modulus of elasticity, low residual deformation and high abrasion resistance.
Hardness: Shore 93 ± 2.
Material code: CO.
Installation:
It is necessary to observe the permissible value of surface roughness (grinding of the landing groove). Mount the cuff for the lip of the landing groove until the piston moves lightly. The seal must always be lubricated before installation.
(For more information, see the Installation Instructions on page 1.2.14).