Mechanical seals for explosive environments
20 October 2016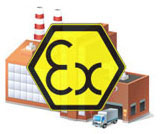 The standard of explosion protection of ATEX is requirements, for the electric and not electric equipment which observance, is obligatory when using the equipment, in potentially explosive environments.
List of mechanical seals where installation is allowed in the pumps which are pumping flammable and explosive liquids and gases:
Single seals: NT, NV-1, NV-2, NV-3, NM, NM-AD, NMM-1, NMM-2, BT-1, BV-1, BV-2, BV-3, NS-1, BT-TNG;
Double seals: BV-1D, BV-3D;
Single cartridge seals: UCA, UCB, UCC, MCA;
Double cartridge seals: UCD, MCD;
Single and double seal groups: Sealmix-1, Sealmix-2;
API Cartridge seals: API (API 01, API02,...)
These seals have been ATEX certified and can be used in potentially explosive and flammable environments.
The AvtokomTehnolodgy group of companies has extensive experience in the delivery mechanical seals to companies, with special fire safety conditions.