Viton – Fluoroelastomer
Viton® (FPM / FKM) – it is the registered trademark of a fluoroelastomer belonging to the DuPont company, today from all existing fluoroelastomer of Viton® it is considered the best. On the basis of fluoroelastomer make rubber mix from which, then do consolidation.
According to various systems of standardization, fluoroelastomer phrase is designated by various abbreviations, but the meaing and material don't change.
Abbreviation FPM - according to indications of the international organization of standardization (ISO), abbreviation FKM - according to the designation accepted by the American society of testing and materials (ASTM). In Russia reduction is accepted - FK (SKF-26, SKF-32).
Fluoroelastomer Viton® started being made in 1957. The beginning of production this material allowed to solve a set of problems in primary branches of the industry such, as:
- Aerospace industry;
- Automobile production;
- Chemical industry and transportation;
- Food and pharmaceutical industry;
- Equipment for use in undeveloped areas and harsh environments;
- Exploration and production of oil and gas fields;
- Processing and transportation of oil.
Main application of fluoroelastomer: gaskets, seals, sealants, coatings, vibration dampers, expansion joints, gaskets, membranes, caps, diaphragms, heat-resistant seal rings, rod, heat-resistant cables and plates.
At the moment, the most widespread types of rubbers: Viton® A, Viton® B, Viton® F.
Fluoric rubbers on the basis of these rubbers differ of firmness in oxygencontaining automobile fuels, engine oils, liquids on a water basis.
Fluoroelastomer of a special purpose: Viton® GLT, Viton® GFLT, Viton® Extreme, Viton® Base Resistant.
Types of fluoroelastomer:
Viton®
A
B
F
GLT
GFL
Extreme
Base Resistant
% fluorine
66
68
70
64
66
66
-
Chemical resistance
++
+++
++++
+
++++
++++
++++
High temperature
resistance
+++
+++
+++
+++
+++
+++
+++
Low temperature
resistance
+
0
-
++++
++
+
+
Note: if more + signs, then better the properties of rubber.
Viton® / FPM / FKM / Fluoroelastomer - well works in the conditions of influence of various aggressive liquids. Systems in which products from Viton® are used, possess more high resistance to influence of a broad range of chemicals. Possesses excellent mechanical and physical properties, the contents in a rubber compound of the fluorine provides incombustibility of this material. Fluoric elastoplastics have small gas-passage and minimum loss of weight by operation in vacuum.
Resistance of Viton® material :
| | |
| --- | --- |
| Steady | Not steady |
| burning | ethers |
| aging | brake fluids on a glycol basis |
| aggressive chemical compounds | organic acids, for example assembly and formic acid |
| mineral oils and fats | flux acid |
| silicone oils and fats | chlorinesulfon acid |
| oils with sulfur and highly aromatic oils | ketones |
| biologically decaying pressure fluids | incandescent water vapor |
| ozone | ammonia |
| aliphatic hydrocarbons (propane, butane, gasolines) | amines |
| aromatic hydrocarbons (gasoline, toluene) | acetone |
| chlorinated hydrocarbons | methylethylketone |
| ultraviolet radiation | dioxane |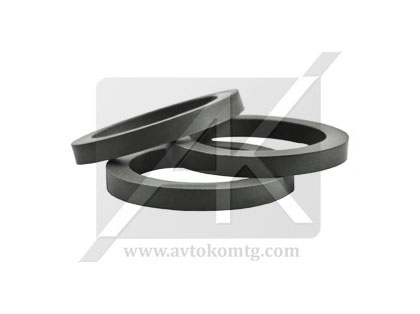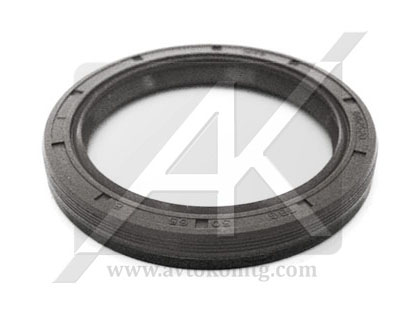 Operating temperature range fluoroelastomer of rings: from -20°С to +200°С, withstands short-time heating to +230°С.
In certain cases, correctly designed details from fluoric rubber on the basis of special frost-resistant Viton® rubber can provide tightness of fixed connections even at a temperature below -60°С.
It is necessary to consider that in case of temperature increase of multiplexing from ftorelastomer more than +300 °C from them start being selected toxic gases and vapors, and even after cooling these materials are unsafe.
Operability information of rubbers on the basis of Viton® fluoroelastomer at the increased temperatures:
10000 hours with Т=204 °С.
3000 hours with Т=232 °С.
1000 hours with Т=260 °С.
240 hours with Т=288 °С.
48 hours with Т=316 °С.
Viton® keeps the good condensing properties after stay on air within more than 10000 hours with temperature up to 204 °C.
The AvtokomTehnolodgy group of companies uses this material for production of the sealings working in high-temperature environments. The raw materials under the name of Viton® passed careful control in our laboratory according to requirements of the food industry and with success are used on the equipment of various manufacturing firms.